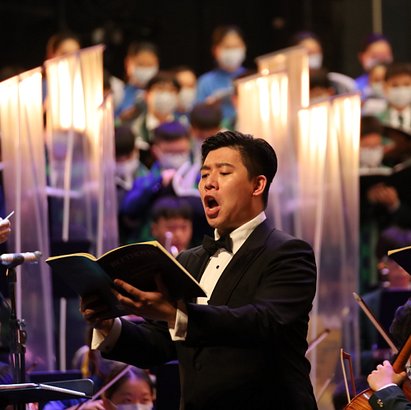 Dennis is a music graduate of the University of Hong Kong (2014). He then went to Italy pursuing a master's equivalent degree, under the teaching of baritone Roberto Abbondanza in the Istituto Superiore di Studi musicali "G. Briccialdi" di Terni (2018) in Italy.
From the age of 16, Dennis continuously participates in the masterclasses of soprano Isabel Gentile and baritone Roberto Abbondanza. He has developed a great interest in bel canto singing under their inspiring teaching, which also set him a good basis to become a professional vocalist.
Dennis performed in various operas, such as Don Ottavio of Mozart's "Don Giovanni", Sesto of Handel's "Giulio Cesare in Egitto", Fracasso of Mozart's "La finta semplice", Le Remendado of Bizet's "Carmen", Ferrando of Mozart's "Così fan tute" and Puccini's "Madama Butterfly" etc. He also sang soloist in Hong Kong for major works such as Beethoven's Symphony No. 9 and Bruckner's Te Deum. He collaborated with The Pro-Musica Society of Hong Kong performing Haydn's Creation and Schubert's Mass in Ab Major. During his time in Italy, he was frequently invited to sing in various concerts and masses, both as soloist and chorister. He was also invited to sing the choral part in a recording session of a Lied of Carl Marie von Weber. He also participated in masterclasses of renowned sopranos Elizabeth Norberg-Schulz and Luciana Serra.
Dennis is currently an active singer based in Hong Kong, he is frequently invited to perform in concerts, operas and musical productions.